INTERVIEW BY JOSH BETANZOS. PHOTOS BY JENNIE TREJO.
In recognition of his bold contributions to the Dallas area and his devotion to public service, SMU's Cary M. Maguire Center for Ethics & Public Responsibility is honored to recognize Peter Brodsky with the 2023 J. Erik Jonsson Ethics Award.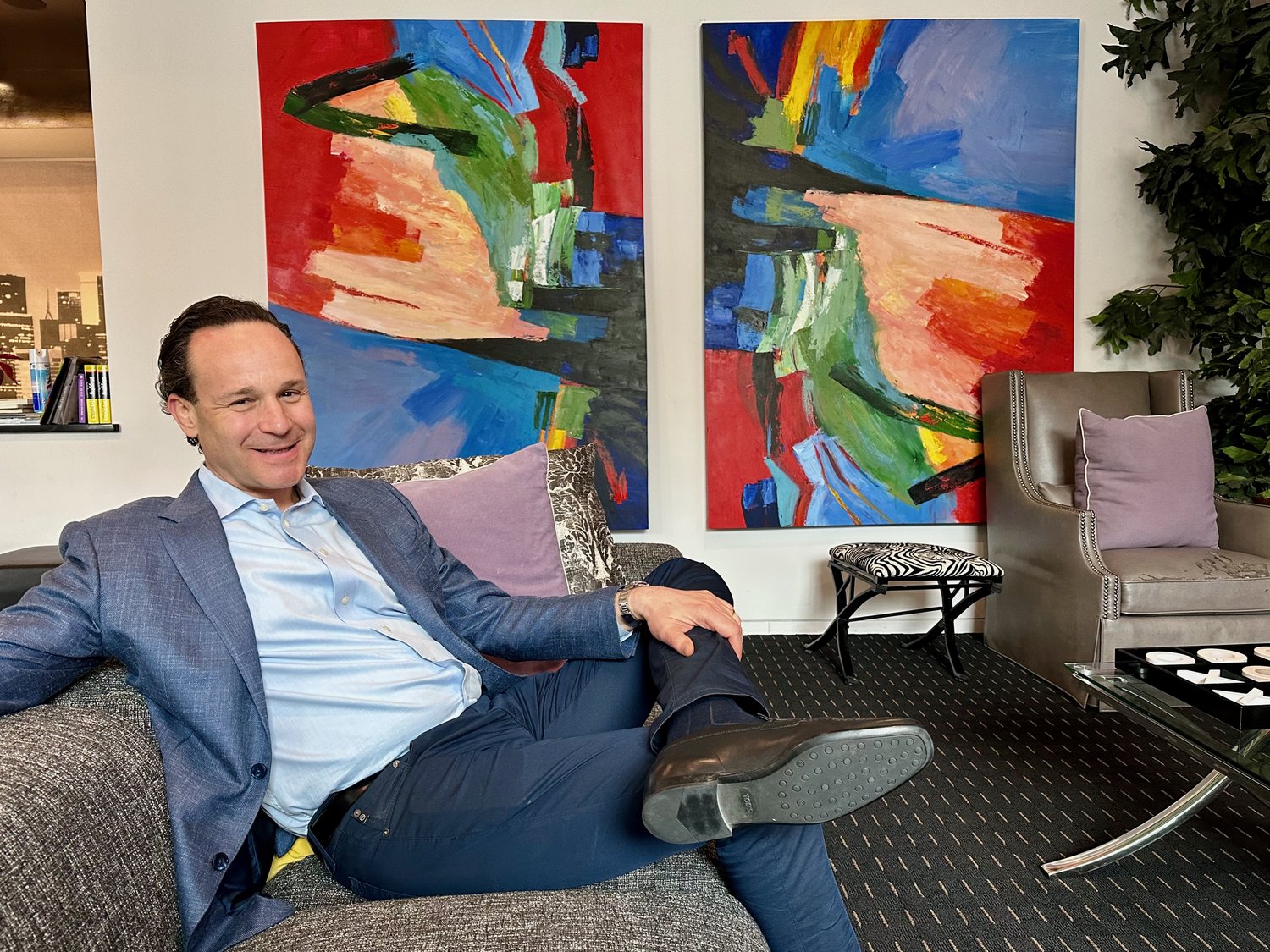 Mr. Brodsky's passion for creating impactful change can be seen in his work in education, homelessness, social services, and urban development. As the visionary behind one of Southern Dallas's most significant commercial developments, Reimagine RedBird, a $200 million mixed-use development, Mr. Brodsky's work has already generated economic growth by creating 1,500 new jobs in offices, shops, medical facilities, and restaurants. Moreover, his approach to real estate development is inspired and responsible, offering a new community development model.
He sits on the Board of KIPP Texas Public Schools, a network of 59 public charter schools with nearly 34,000 PreK-12 students in Austin, Dallas, Houston, and San Antonio, and the Advisory Board of KIPP Texas–Dallas-Fort Worth. He also serves as the Board Chair for Housing Forward, the lead agency of Dallas and Collin Counties' homeless response system.
I recently had the chance to sit down with Peter and learn more about the man who wears many hats in his mission to better the Dallas community through public service.
Congratulations on being awarded the 2023 J. Erik Jonsson Ethics Award. How does it feel to be recognized for all of the incredible work you have done for the city of Dallas?
It's very humbling. And usually, when I've heard people use that expression in the past, I thought it was BS. I felt that it was just something people said– but SMU is a very important institution in our community, and they've got very high standards. This is what the Maguire Ethics Institute exists for. This award has real criteria, and if you look at who's been given the award in the past, it's a pretty august list. So I really was humbled and honored, particularly to receive that phone call from Bobby Lyle, who is someone I look up to and consider a mentor.
How did you first encounter RedBird? When did you realize that it was a commercial project you wanted to take on?
For the first 15 years that I was here, I never really ventured south of I-30, besides going to the fair once a year, which is a life I think a lot of folks in North Dallas live. I didn't know anything about Southern Dallas besides being told it was dangerous.
That changed for me when I did Leadership Dallas, a leadership development class sponsored by the Dallas Regional Chamber. That really changed the course of my life. It was there that I was first exposed to Southern Dallas, met a very diverse group of leaders who live there, and began to understand what a misperception about Southern Dallas there was in the north.
Southern Dallas is 208 square miles, bigger than north Dallas, bigger than all of Atlanta, but painted with one brush: poor and dangerous. There is disproportionate poverty in that part of the city because of a very shameful and long racial history and past policies, but it's not uniformly anything. It's not uniformly Black, Hispanic, poor, or dangerous. It's a very diverse community, and yet has a total lack of commercial amenities beyond payday lending, dollar stores, rental centers, and bad fast food.
Redbird is a very solidly middle-class area, with a lot of professionals living there. When segregation was more violently enforced in this city, that's where professional-class African American families lived. Many still live there now, and many still live immediately adjacent in Duncanville, DeSoto, and Cedar Hill.
Despite this, the area lacks quality amenities due to a supply-demand imbalance. When Redbird Mall became available, it seemed like the perfect place to make a statement and change the narrative about the community.
What were the reactions from the folks around you? Was it difficult convincing other investors to take RedBird seriously?
I didn't even bother– I did it myself. I'd been fortunate to have a lot of success in my career in private equity, so I was able to do it. Trying to get investors to believe and invest in a project that was being run by someone who had never done a real estate development before– in a mall, which is not a popular growing asset class, in a part of town that has been deeply stigmatized– did not seem like a fruitful exercise. No one was going to do it. I now have a lot of outside investors, but we've been doing it for seven years, and we have proof points.
Why do you think Southern Dallas has been largely underutilized by real estate developers?
It's a combination of things. Southern Dallas has inferior infrastructure due to the city's initial reluctance to develop it. The construction of I-20 without exits and service roads further hindered development opportunities, and historical disinvestment has also contributed to the underdevelopment of the area. These are seeds that were planted long ago, and now we have to counteract that.
The city's policy to develop North Dallas led to overpopulation and subsequent migration to neighboring areas, like Frisco, Prosper, and Plano, with no property tax obligation to the city of Dallas. Southern Dallas, which is 54 percent of the landmass of the city, 40 percent of the population, and only 15 percent of the tax base, requires disproportionate investment for sustainable growth.
The solution lies in attracting high-quality jobs and offices, raising the tax base, and creating a mixed-income community. And that's what I'm hoping is the long-term impact of Redbird. It's not just about providing dignity and needed services to a community, but also proving that it can be done profitably so that other developers with the profit motive go do something in Southern Dallas.
Do you think that real estate developers will look at the region south of I-30 differently and use Redbird as an example?
Yes, I do. It's an area of town that is completely undeveloped with as much potential as there is in Prosper. However, Southern Dallas desperately needs economic development, so there's a paradox where you have to worry about gentrification. You want nicer things in the community, but you want them to be available to people in the community. You want to protect as much of the population as you can so that you end up with a mixed-income community. And things will change if you put nicer things there.
So not all of the opportunities will be exactly the same as Redbird, but my hope is that this development changes people's perceptions about that part of town.
Can you speak to the impact that UT Southwestern's presence has had in Southern Dallas?
75215 is a poor zip code in Southern Dallas, and it has a 24-year difference in life expectancy compared to the affluent Highland Park zip code 75205. Health outcomes are dramatically different in different areas of the city, and a lack of access to healthcare is a major factor. The death rate from breast cancer is significantly higher south of I-30 than north due to limited access to mammography.
North Dallas has six or more high-quality hospitals, while Southern Dallas only has one, which is difficult to reach without a car and reliable transportation. UT Southwestern brought its best to Southern Dallas, creating a new facility that sends a message of high-quality medical care through the design and amenities. And to bring in a second healthcare provider, one that is of the quality of UT Southwestern, one of the premier medical facilities in the city, is literally life-changing for people.
It has been incredibly well received by the community, because they feel respected and honored by UT Southwestern, resulting in increased trust in their medical professionals. This commitment to providing the highest quality amenities is a core principle at Redbird, and they really did it better than anyone else has done it so far.
What other businesses or facilities are significant to the Redbird development?
We sold property to an apartment developer that developed an A-class apartment building that any of us would be happy to live in. We have a lot of quality, living wage jobs on site. Dallas College has a big presence there. We have an entrepreneur center, an incubator space, and a coworking space that helps younger entrepreneurs start businesses because that's how you're going to create wealth in the community.
We have a couple of people who started their businesses at Redbird. We're bringing in higher quality foods, like Fuzzy's Tacos, and we have a lease signed with Jamba Juice. It's really become an ecosystem of entertainment and retail, and they're employing people from the area.
You talked about the impact you want Redbird to have on the community and the lasting vision. When do you think you'll know you're finished?
I don't have any current plans to stop doing it. If I stopped doing it now, there would still be a risk that whoever took it over would compromise it. There are a lot of tenants to fill, and the easy tenants to get are the ones that already are in the area, like pawn shops. But I say no to that, even though it would be lucrative.
The development can go on for 25 more years. It's 100 acres. Right now, we can't afford to build a structured parking garage, so we surface park. But, 10-15 years from now, when we can afford to go vertical, all of a sudden, 100 acres becomes a lot more space. My hope is that three or four years from now, whoever would step into my shoes– if that's what I decide to do– would understand that the best thing for the long-term investment is to stay the course.
After having worked in private equity for so long, what was the catalyst behind the decision to leave that career?
I went into private equity for its reputation for offering young people significant responsibilities. At 25 or 26, I was thrilled to learn from CEOs and grow professionally, but after a while, I realized the job no longer fulfilled me. I was either looking to run a business, hire people and create a culture, or I was looking to do something that had a civic impact. Redbird fulfilled that desire.
While I worked hard for my success, I acknowledge my privilege in life, and in a lot of ways, I was born on third base. I was born to two parents who gave me a phenomenal education and every opportunity to succeed. So now what drives me is to do everything I can to help other people have opportunities. And that's what KIPP is about, and what Housing Forward is about, too.
What are you passionate about now? What makes you feel fulfilled?
What really drives me is trying to change systems, so that you can have an impact on many people. What I'm trying to do is make sure that the people who do the groundwork have the funding, the organization, the management, the structure, and the strategy to be successful.
And here's the thing: philanthropy is critical, but philanthropy is finite. There's only going to be so much money that is given away every year. For-profit businesses are infinite. You will always find investment capital if you can generate a return. And Southern Dallas is not going to get solved through philanthropy. It's necessary, but not sufficient. Economic development is the only way that we're going to get Southern Dallas to fulfill its potential.
So, that's what fills my cup. It's about trying to solve problems that I know will have an impact on a lot of people.